Is it easy to find WiFi in China in 2023? Unless you are paying for international data roaming on your phone, knowing how to easily find WiFi in China will be helpful for when you need to connect to the Internet. These are some ideas for how and where to find Wifi in China.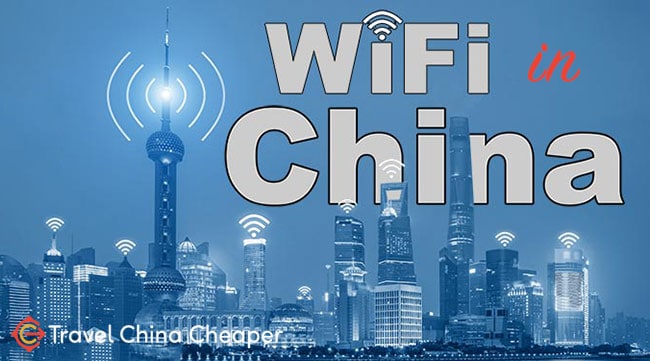 Considering how much we use our computers and mobile devices for things like email or even getting directions on Google Maps in China, we need to be able to stay connected to the internet while traveling.
For many international travelers, trying to figure out how to enable international roaming on your phone or even purchase a Chinese SIM card can be overwhelming.
But how easy is it to find and connect to WiFi hotspots in China?
The answer, as with most everything in China, is slightly complicated.
Feel free to use the navigation links below to jump to a specific section, or scroll down to continue reading.
This is everything you need to know about getting internet access anywhere in China and how you can be completely prepared before you visit.
Note: Some of the links in this article are affiliate links, which means that at no extra cost to you, I may be compensated if you choose to use some of the services listed.
How to Find WiFi in China as a Traveler
Let me start with a bit of good news: WiFi is pretty much everywhere in China.
And when I say everywhere, I mean…
…everywhere.
As with most developed countries around the world now, it's common to find plenty of free WiFi in China throughout airports, restaurants, coffee shops, and malls. A wireless internet connection is also something you can expect in a Chinese hotel or even in a youth hostel.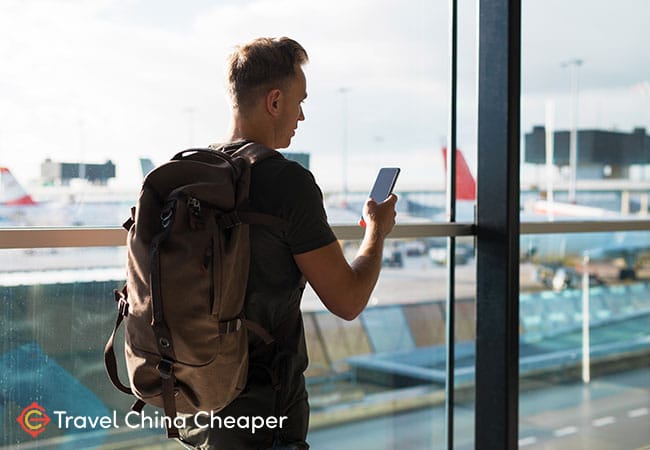 The truth is, you're not going to have a difficult time finding WiFi in China no matter where you're at. Finding it is easy…
…connecting to WiFi is slightly harder.
The problem isn't finding free WiFi in China. The problem is that it's not exactly easy for most travelers to connect to the WiFi.
There are a few different reasons why it's hard for travelers to use WiFi in China. These include:
That last one is important! If you don't have a Chinese phone number where a code can be texted, you're out of luck. Your international phone number won't work here.
Error, group does not exist! Check your syntax! (ID: "1")
Options for Text Verification | WiFi in China
Text verification to access WiFi in China means that for the average traveler, you won't be able to connect to most WiFi networks in China.
For expats who are living in China, this won't be an issue. Most foreigners in China all have a local phone number.
But for short term visitors and travelers, you are limited to only a few options.
There is one final option, however, that I'd like to propose to you that solves a lot of these problems:
Using Global WiFi as your own personal hotspot.
Bringing your own WiFi such as a Skyroam global WiFi router is by far the easiest and most convenient way to connect to WiFi in China. You don't have to use your own phone or getting a new phone number.
Global WiFi Hotspots for Travelers | What's the Deal?
Global WiFi is a useful service for international travelers. It offers unlimited mobile WiFi pretty much anywhere in the world, including China.
Rather than having to go out of your way to find WiFi in China or to get a Chinese phone number, a global hotspot is basically like your own personal WiFi network.
One example of a Global WiFi service that works in China is Skyroam. While there are quite a few companies that offer similar services, I'm using Skyroam as an example here because it's the most popular among China travelers and I've had experience with it.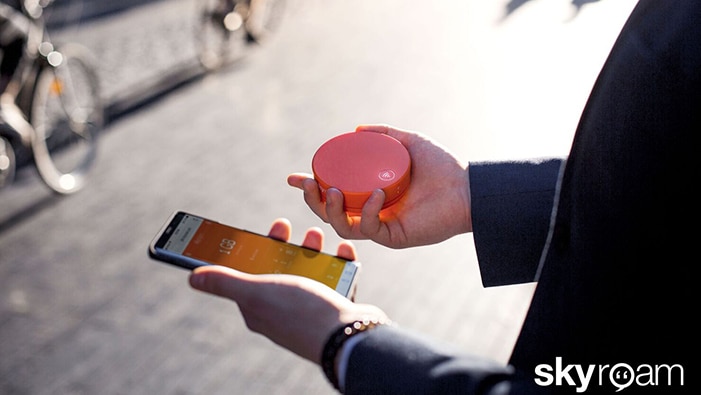 With this one global WiFi device, you no longer have a need for international roaming on your phone or trying to get a Chinese SIM card. Here's how it works.
How Global WiFi Works for Travelers
Instead of spending 10 frustrating minutes trying to figure out how to get a code for public WiFi, Skyroam works like this:
Global WiFi devices such as Skyroam make use of a virtual SIM card. This allows you to connect to local cellular networks in China (don't worry…it makes that connection automatically).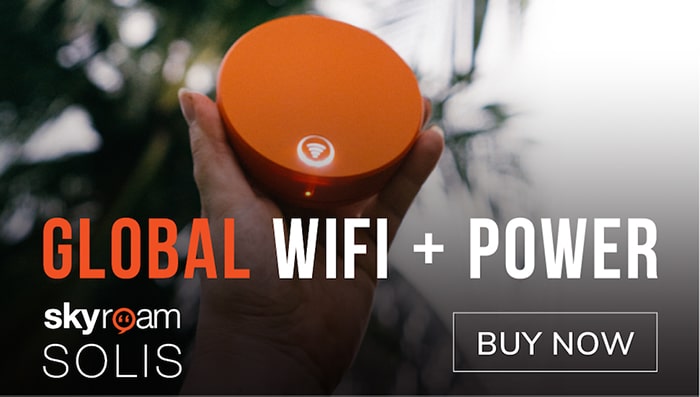 When signing up with Skyroam, you purchase day passes that give you access to this local network.
Why I Recommend Skyroam for China
Like I said earlier, there are a number of global WiFi services that can give you unlimited WiFi in China. So why do I recommend Skyroam?
Overall you can usually count on steady service no matter where you go in China.
The exceptions are of course the middle of nowhere or areas where you should actually be focused on enjoying the scenery rather than checking your Facebook. 🙂
FAQ | WiFi in China Questions
I've tried to answer as many questions about WiFi in China above. However, there are still a few frequently asked questions that didn't exactly get covered.
Do Chinese Hotels Offer Free WiFi?
Yes, you can access WiFi at Chinese hotels. While they are usually password protected, all hotel patrons are provided free access. In most cases, this WiFi connection is very slow and obviously doesn't extend beyond your hotel room.
Do I Need a Chinese Phone Number to get WiFi in China?
In most cases yes, a Chinese phone number is required for text verification of a user's identity. Without a local phone number, it's very difficult to use WiFi in China unless you only use hotel WiFi or bring your own global WiFi device.
Is WiFi in China still Censored?
Absolutely! Every internet connection in China is censored, meaning access is blocked to Gmail, Facebook, YouTube and many other services. Even if you're using a Global WiFi device like a Skyroam, you will still need to install a VPN service like ExpressVPN in order to access blocked content in China.
Is the WiFi in China slow?
On most public networks, the WiFi hotspots in China are extremely slow. Part of this is due to the high number of users that access the network, but it also has to do with the speed of the connection. The local Chinese will tell you that they often get faster speeds on their cellular network than on a WiFi network.
Can I Use my phone as a mobile hotspot in China?
Yes, you can. However, before you can do this you'll need to either set up international roaming on your phone or get a Chinese SIM card to access the local network.
Should I send my passwords over public WiFi in China?
As long as the website you're visiting loads as u0022httpsu0022, it should be safe to send your passwords over WiFi in China. If you're still uneasy, you can use a VPN to further secure your connection or you can change your passwords when you return from China (you'll want to use a password checker to make sure they're strong).
If you have any questions that aren't listed here, please leave them in the comments below. Otherwise, I appreciate your support of this website by using this link to visit Skyroam:
Final Thoughts on Finding WiFi in China
As I've already shared, finding WiFi is generally pretty easy throughout China. The challenge is you may not be able to connect to WiFi networks unless you have a local phone number.
To get around this, you have the option of either getting a local SIM card or signing-up for a global WiFi service like Skyroam. With Skyroam you can can always stay connected to WiFi. This makes it easy to find your way around town, message your friends, and access the Internet.