Is it possible to use Yahoo Search in China in 2019? Yahoo Search has been one of the only Western search engines easily accessible from within China in recent years. But that all changed after its blocking in September 2018. Here I share all you need to know about Yahoo Search's blocking and how to access the search engine in China.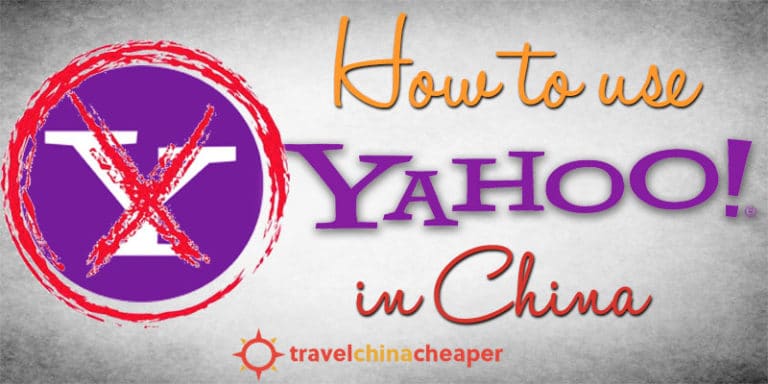 It's probably not news to you that China actively censors the Internet and websites like Facebook and Twitter (among many websites and apps that China blocks) are not accessible within China's borders.
But it's not just social media sites that are blocked. Many travelers don't realize that search engines like Google, Duck Duck Go and yes…even Yahoo…have been axed by the so-called Chinese "Great Firewall."
Note: This article contains affiliate links, which means that at no extra cost to you, I will be compensated if you use some of these services I recommend. The good news is that in many cases, such as this link to ExpressVPN, I've negotiated special deals to get you 3 months of free service.
Is Yahoo Search Blocked in China?
Unfortunately, Yahoo Search was blocked in September 2018. While it's easy to see why Google is blocked in China given their bitter relationship with the Chinese government, Yahoo Search along with other search engines appeared to play nicely with China's requests to censor content.
My only guess as to why Yahoo Search is now blocked is due to the Chinese government wanting to further restrict its citizens accessing the Internet outside of China. Any foreigner in China can tell you that searching for Western websites using Baidu, China's top domestic search engine which caters to a Chinese audience, brings back only poor results from non-Chinese websites.
Additionally, with the blocking of Yahoo Search and the more recent banning of Microsoft Bing in China, there are no decent Western search engines not already censored by the Great Firewall.
Fortunately for all of us, there are several ways to use Yahoo Search, Google, Bing, and all the other blocked websites and apps in China.
Accessing Yahoo Search in China Using a VPN
Ask any expat who has lived in China and they'll tell you all about their favorite Virtual Private Network, or "VPN" for short. The best way to explain a VPN is that it is an encryption technology that allows you to get around China's Internet censorship by connecting to a server outside of China.
At first, you may worry that using a VPN is illegal, but the truth is that China really doesn't care about how foreigners within the country access the internet. Their primary concern is about censoring the internet for its own citizens.
So how does a VPN work to allow you to access Yahoo Search in China? Think of it as an encrypted tunnel that connects your computer with another computer in another country.

Once connected to a server outside of China, you see the Internet (and Yahoo's homepage) as if you were in the location of the server instead of as you would normally see it in China.
RECOMMENDED VPN: I recommend expats to use ExpressVPN since it has been extremely reliable in China over the past 5 years that I've used it.
While the primary use of a VPN is to secure your connection to the Internet, particularly in public places like airports, and coffee shops, in China, VPNs have become such a popular tool to access restricted Internet content that the vast majority of long-term expats use a VPN on a daily basis – including me.
Connecting to a VPN in China
Let's say you want to use Yahoo Search in China (along with other blocked websites). You understand that you need to use a VPN, but you're not quite sure what the next step is. The first thing to know is that China blocks access to VPN websites in China. For this reason, it's best setup a VPN prior to your arrival in China.
Setting up a VPN for China is simple:
Purchase and download a VPN like ExpressVPN on your computer (5 min)
Download the VPN app to your phone or tablet devices. (5 min)
Sign into all the apps and software using the code they give you. (5 min)
Click "Connect" and you're done!
One more thing: I highly recommend you download at least two VPN services for your phone as a backup in case one doesn't work. China sometimes blocks certain IP addresses, which can cause major connection issues no matter which VPN you use. I recommend the following VPNs:
ExpressVPN: One of the most popular VPNs on the market that has one of the best phone apps I've seen. I use this every day. Best of all, they have a 30-day money-back guarantee in case it doesn't work well for you. BONUS: When you use this link for ExpressVPN, they'll give you 3 months free on any annual plan.
NordVPN: Again, another VPN I've used for years now that has an easy-to-use mobile app and a 30-day money-back guarantee. NordVPN is quickly becoming one of the most popular VPNs on the global market.
*Disclosure: While I have affiliate relationships with all of these VPN services, I don't recommend any service that I don't personally use. I have active subscriptions to each of these VPN services.
Start Using Yahoo Search in China Today
Within the ExpressVPN apps, find a country server that is close to your location and click the big power button.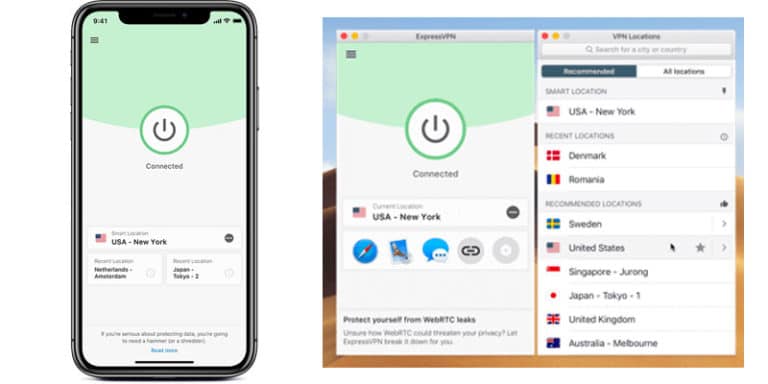 The above screen shots show what you'll see using ExpressVPN both on a mobile device (left) and on a desktop computer (right).After connecting to the VPN, you can open up Yahoo Search as well as Facebook, Instagram in China, the New York Times and every other blocked website.
Remember, a VPN is not an internet connection by itself and therefore is not a substitute for WiFi or a network connection on your phone/computer. You must first connect to a local network or find a way to get WiFi in China.
Final Thoughts: Yahoo Search in China
Even though Yahoo in China is blocked, you can still use your preferred search engine along with other banned websites by downloading a VPN.
To learn more about VPNs you can check out many resources including reviews of my favorite VPN providers for China or even my specific review of ExpressVPN.