Is it possible to access YouTube in China? Whether you just want to watch YouTube videos or you need to upload YouTube videos while you're in China, your biggest challenge is internet censorship. YouTube is blocked in China. So how do you access YouTube in China with enough speed to minimize buffering? Continue reading to learn more.
When it comes to being censored within China, YouTube is in good company. There are plenty of other apps and website such as Instagram, Facebook, Twitter and even WhatsApp in China that have been axed by the powers-that-be in Beijing.
China has taken a particular dislike to anything having to do with Google. YouTube, which is owned by Google, is just one of many Google-related services blocked in China. In China you can't access the Google homepage, check your Gmail or get on Google Plus (although that doesn't matter now that Google+ has been shuttered).
Accessing YouTube in China is slightly different than most of these other websites for one reason: watching or uploading a video on YouTube takes a lot of bandwidth and high internet speeds. How is that possible when China blocks access to YouTube?
Note: This article contains affiliate links, which means that at no extra cost to you, I will be compensated if you use some of these services I recommend. The good news is that in many cases, such as this link to ExpressVPN, I've negotiated special deals to get you 3 months of free service.
Watching YouTube in China | Check Internet Speed
Your primary concern when wanting to stream video from services like YouTube or even Netflix in China is internet speeds. Regardless of what method you eventually use to circumvent the blocking of YouTube, your number one priority is speed.
There are a couple of things you can do to make sure that you're accessing the internet in China at the highest possible speed. This includes:
Check Your Current Speed: Visit a website like SpeedTest.net to determine your internet speed. According to Google's YouTube support page, you will need at least 1+ Mbps (Megabits per second) in download speeds, although you'll want more like 3-5 Mbps if you want high quality videos for YouTube in China. If you test your internet speed and it isn't fast enough, you need to either find a different network or find a way to upgrade your network.
Close Other Apps: Once you've determined that your internet is fast enough, you'll probably want to close other browser tabs which might be silently using up your internet bandwidth in the background. Every little bit helps!
Stay Updated: Make sure that your browser and operating system are as up-to-date as they can be. Each new update not only includes security patches, it's also usually faster.
As I already mentioned above, though, there's still a problem accessing YouTube in China once you have speedy access to the internet. YouTube is blocked in China.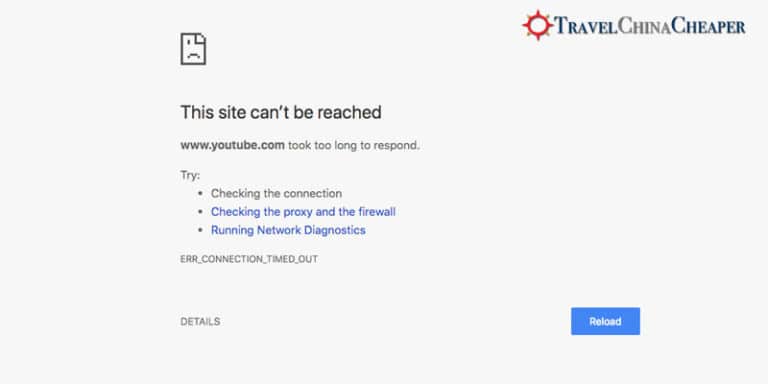 How to Access YouTube Despite Being Blocked in China
Since YouTube is technically blocked in China, you're going to need to set up either a VPN or a proxy server to access the site. If that sounds too hard and technical for you, don't worry – it's not! I use ExpressVPN and it took me less than 5 minutes to set up.
The key here is that you get all of this set up prior to arrival in China. It's a huge pain to do so once you've arrived. Take note of that as you read. Consider how you can get your computer or phone configured now…not later.
Let's take a look at the various options you have for YouTube since it's blocked in China:
VPN (Virtual Private Network): If you've never heard of a VPN, you can think of it like a tunnel through a wall (for a more detailed description, see What is a VPN?). Even when China has censored everything, a VPN will tunnel through and give you access to sites like YouTube, Facebook, Gmail and even Instagram in China. It's used by pretty much any expat who lives in China, including me as I type this. Like I said earlier, I use ExpressVPN and I love it.
Proxy: A proxy is similar to a VPN, except it doesn't encrypt your data. A proxy allows you to make a request for another server outside of China to access YouTube on your behalf. The upside is that you can usually search for free proxies on the internet. The downside is that "free" usually means they're going to track your internet activity. They then often sell it to others or try to download some tracking software on your computer. I don't recommend using a proxy, but if you must, be careful.
Quick Note: I have some people ask me if something like SmartDNS will allow them access YouTube in China, but it won't. SmartDNS works for geo-restricted content such as Netflix, Pandora or even to watch Hulu in China. However, since YouTube is actively blocked in China, SmartDNS won't help.
In the end, you need to make sure you set up a VPN that has both high enough speeds and can bypass the internet censorship in China. I usually recommend that people download and install two VPNs prior to arriving in China since they don't always work the same in every city in China. If you decide to get two, I recommend the following since they both offer 30-day money back guarantees to return if one doesn't work.
ExpressVPN: One of the most popular VPNs on the market that has one of the best phone apps I've seen. I use this every day. They have a 30 day money-back guarantee in case it doesn't work well for you. BONUS: when you use this link for ExpressVPN, they'll give you 3 months free on any annual plan.
NordVPN: Another good VPN option that has an easy-to-use mobile app and a 30 day money-back guarantee. I've been using NordVPN a lot recently and there's a reason it's become such a popular option recently.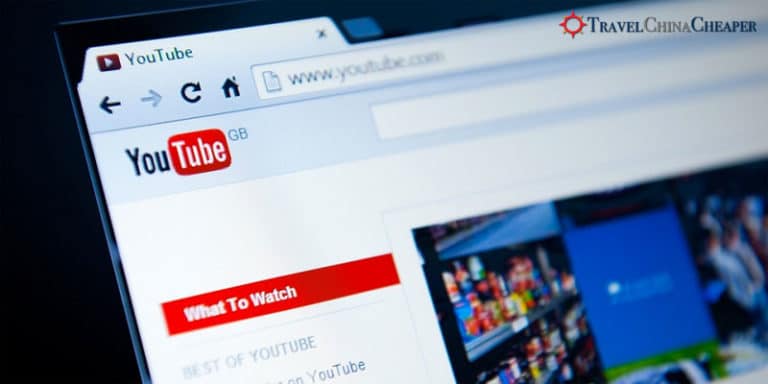 Uploading Videos to YouTube in China
For the past couple years, I've been uploading videos to YouTube on my FarWestChina YouTube Travel Channel (check it out and subscribe…they're awesome videos!). At times, the uploading has been really, really slow. As in, I had to leave the computer overnight to upload.
Other times, uploading has taken only a few minutes.
VPNs naturally slow down your internet connection. Since you have to use a VPN or proxy to access YouTube in China, it's not surprising that it takes so long to upload here. I've found that it's best to upload at off-peak times. In other words, avoid late afternoon and evening when everybody is getting on the internet after work.
You want to make sure that you prepare yourself for what's going to happen. Try on different networks and see what is fastest for you. But don't worry – you can upload videos to YouTube in China!
Conclusion | Using YouTube in China
It's quite possible to use YouTube in China – as well as the hundreds of other websites and apps that are blocked in China. Make sure you've done your research to find the best VPN for China and get it setup on your phone and computer before you travel to China and you should be good to go.
It takes a little bit of creativity and a little bit of patience, but being able to share your videos on YouTube can be worth the effort.
Were you able to use YouTube while traveling in China? How did it go for you? Let me know in the comments below.