Is it possible to watch YouTube in China in 2023? Whether you just want to stream your favorite YouTube videos or you need to upload videos while you're in China, your biggest challenge is internet censorship. Unfortunately, YouTube is blocked in China, but there are ways around this, as we'll cover in this expat guide.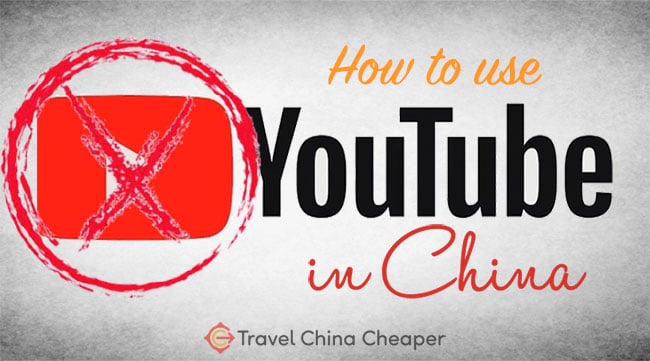 ---
Recommended Unblocking Tool
We recommend ExpressVPN to unblock apps in China
---
When it comes to being censored within China, YouTube is in good company. There are plenty of other apps and website such as Instagram, Facebook, Twitter and even WhatsApp in China that have been axed by the powers-that-be in Beijing.
China has taken a particular dislike to anything having to do with Google.
YouTube (which is owned by Google) is just one of many Google-related services blocked in China. In China you can't access the Google homepage, use Google Docs or check your Gmail.
Accessing YouTube in China is slightly different than most of these other websites for one reason: watching or uploading a video on YouTube takes a lot of bandwidth and high internet speeds.
In this guide, we're going to answer the following questions:
Use the navigation links above to jump to the answer to your specific question or continue scrolling to read more.
Note: This article contains affiliate links, which means that at no extra cost to you, I will be compensated if you use some of these services I recommend.
Is YouTube Blocked in China in 2023?
YouTube is blocked in China and has been blocked since March 24, 2009. At the time, China did not officially acknowledge that they had blocked this Google service, but it was abundantly clear that the company was not welcome in the country.
It took another year (June 2010) before Google made a formal exit from China because all of its services had been censored.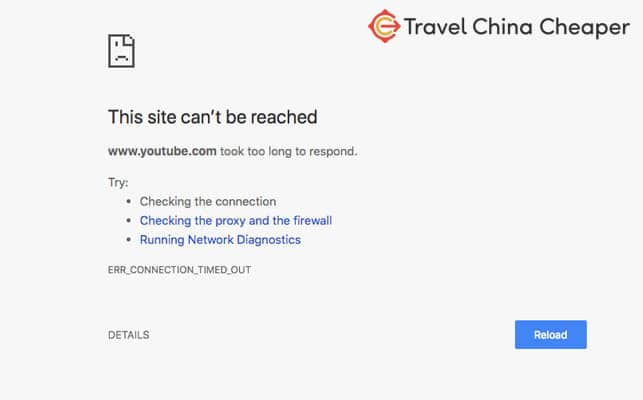 If you were to type in "YouTube.com" into your internet browser while in China, your computer would spend about 30 seconds trying to make a connection and then serve you with the following message:
This site can't be reached.
Now, 14+ years after YouTube in China was first censored, there's no reason to believe that it will ever be unblocked.
How to Watch YouTube in China (tutorial)
Time needed: 10 minutes
Because YouTube is blocked in China, you're going to need to rely on a technology known as a virtual private network ("VPN" for short) to help you bypass censorship. Below I'll show you step-by-step how to connect to a VPN to watch YouTube in China.
Download and Install a VPN on your device

There are many VPN companies to choose from, although not all of them work in China. I recommend either ExpressVPN or Surfshark based on my own experience. It usually takes about 5 minutes to download and install the software on your computer or mobile device.

Connect to a VPN Server in the US

By connecting to a US-based VPN server, you'll bypass the Chinese censorship. YouTube will also suggest video content as if you were in the United States. It's sometimes faster to connect to servers in other countries to watch YouTube in China, but the suggested content will be different. Below is a screenshot of the server choices you have on the ExpressVPN mobile app.

Open YouTube in a new Browser Window

It sometimes requires closing your current browser (or YouTube app) to reset the connection. As long as you remain connected to the VPN server, you'll have complete access to the video library for YouTube in China. Congratulations!
Don't worry: you won't get in trouble for using a VPN in China and as you saw above, it's incredibly easy to set up.
Again, I've already covered a number of recommended VPNs for China, but for the purpose of watching YouTube in China, I have used and recommend:
ExpressVPN: Historically the most reliable VPN for China (I've used it for over 7 years now). It's a premium app with a premium price tag, but it works.
Surfshark: Although considerably younger than ExpressVPN, I've had great success using YouTube in China while on Surfshark. They offer a great value for the service.
You'll want to make sure that you download the apps on your devices before you enter China. It's terribly hard to do so once you've already landed here!
Can I Use SmartDNS to Stream YouTube?
I've have some people ask me if using something like SmartDNS will allow them access YouTube in China.
Sadly, it won't.
SmartDNS works for geo-restricted content such as Netflix, Pandora or even to watch Hulu in China. It spoofs your location in order to bypass restrictions on the provider end (because of licensing agreements).
However, since YouTube is actively blocked in China, SmartDNS won't help. You'll have to use a VPN.
How to Upload Videos to YouTube in China
For a while, I used to upload incredible travel videos to YouTube on my FarWestChina YouTube Travel Channel (check it out…they're awesome videos!).
At times, the uploading has been really, really slow. As in, I had to leave the computer overnight to upload.
Other times, uploading has taken only a few minutes.
VPNs naturally slow down your internet connection. Since you have to use a VPN or proxy to access YouTube in China, it's not surprising that it takes so long to upload here.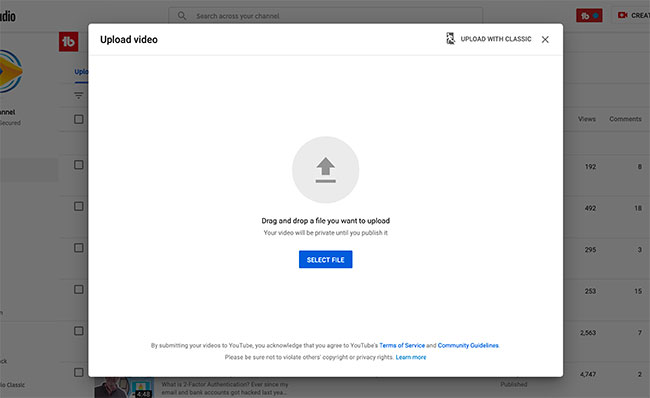 Here are a few tips that I've learned as I've uploaded videos to YouTube:
It's best to upload at off-peak times. In other words, avoid late afternoon and evening when everybody is getting on the internet after work.
Try different networks/servers. Sometimes you'll get a faster upload on your home network, sometimes you can get blazing speeds at your local coffee shop. You can also connect to different servers and protocols with your VPN to increase speeds.
Be patient. It can be frustrating…I know. As long as you know what you're getting into and you're patient, you'll be fine.
But don't worry – you can upload videos to YouTube in China!
Tips for Streaming Video in China
Your primary concern when wanting to stream video from services like YouTube or even Netflix in China is internet speed.
Regardless of what method you eventually use to circumvent the blocking of YouTube, your number one priority is speed.
There are a couple of things you can do to make sure that you're accessing the internet in China at the highest possible speed. This includes:
Check Your Current Speed: Visit a website like SpeedTest.net to determine your internet speed. According to Google's YouTube support page, you will need at least 1+ Mbps (Megabits per second) in download speeds, although you'll want more like 3-5 Mbps if you want high quality videos for YouTube in China. If you test your internet speed and it isn't fast enough, you need to either find a different network or find a way to upgrade your network.
Close Other Apps: Once you've determined that your internet is fast enough, you'll probably want to close other browser tabs which might be silently using up your internet bandwidth in the background. Every little bit helps!
Stay Updated: Make sure that your browser and operating system are as up-to-date as they can be. Each new update not only includes security patches, it's also usually faster.
In the end, you need to make sure you set up a VPN that has both high enough speeds and can bypass the internet censorship in China. I usually recommend that people download and install two VPNs prior to arriving in China since they don't always work the same in every city in China.
If you decide to get two, choose ones that offer a 30 day money back guarantee in case they don't work as well as you had hoped in China.
Final Thoughts on Using YouTube in China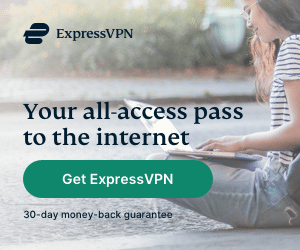 It's quite possible to use YouTube in China – as well as the hundreds of other websites and apps that are blocked in China.
Make sure you've done your research and get setup with a VPN before you travel to China. I recommend both ExpressVPN and Surfshark, although there are plenty of others that work as well.
It takes a little bit of creativity and a little bit of patience, but being able to share your videos on YouTube can be worth the effort.