Are you one of the many football fan expats who is searching for ways to stream the 2018 World Cup in China? Obviously you could turn on your TV and watch the games with Chinese commentary, but if you're looking for something more, let me walk you through your China streaming options.
Sure, you could stream the World Cup for free on China's YouKu, but do you really want to sit through crappy Chinese commentators?
The way that you experience the 2018 FIFA World Cup in China depends very much on how you stream it. The broadcast of the games from the United States looks entirely different than the broadcast from Australia or the United Kingdom.
Fortunately, there are ways to trick the internet into thinking that you're located in a different country and therefore allow you to stream the World Cup from different countries without leaving your couch. Check it out.
*Note: As part of some of these World Cup viewing options, there are recommendations for services that are affiliate links. This means that at no extra cost to you, I will compensated if you decide to use this service. Fortunately, I have also negotiated bonuses for services like ExpressVPN where you get 3 months free with any annual plan!
Streaming the 2018 World Cup in China
As long as you have a fast internet connection, you're just a couple steps away from streaming the World Cup from your home in China. It really breaks down into two things:
#1 Download and Install a VPN (Virtual Private Network)
If you're unfamiliar with a Virtual Private Network, or "VPN", it might sound suspicious for me to ask you to download software. It's not. In fact, hundreds of thousands of expats (including me!) use a VPN everyday to access blocked content in China.
Simply put, a VPN is a connection protocol that you install on your computer, phone or tablet that encrypts your internet activity by routing you through another internet server. This server could be in the same city as you or, as is the case for most VPN users, another country entirely.
I use ExpressVPN in China. Not only is it insanely quick to install (5 min), you can see in the screenshot below how easy it is to choose which country server you want your connection to be routed through: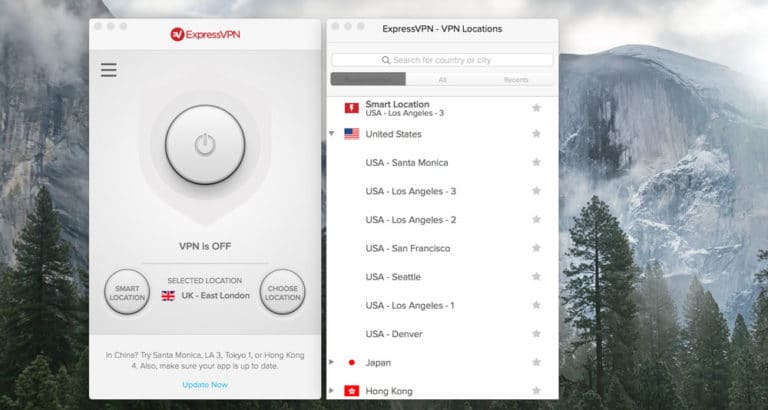 Once you've downloaded and installed a VPN such as ExpressVPN, you merely choose the country server (it doesn't really matter which city you use) and click the big connect button. Voilà! You're ready to go.
#2 Choose Your Country & Streaming Player
Let's say that you want to watch the World Cup in China as if you were back at your home in the UK. To begin, open the ExpressVPN software and connect to a UK server (i.e. "UK – East London").
Next, you'll use your internet browser to log onto a free broadcast in the UK (see below for my recommendations). Normally, these broadcasts would be blocked when you access them from China, but since the VPN makes the computers think that you're actually in the UK, you're golden!
2018 World Cup | Broadcast Links
Below you'll find a helpful list of links to free streaming options (divided into languages) to watch the 2018 World Cup in China. Remember, you'll need to connect to the corresponding country server with your VPN before you click the link to watch.

For those who want to stream the World Cup in English, here are a few options based on which country broadcast you prefer:

If Spanish is your preferred language, you'll want to choose a broadcast from one of the following countries using a VPN:

For those viewers who would like to listen to the broadcast of the World Cup in the German language, there are a few options for you including:

There are only a couple places where you can go to watch the World Cup in the French language. It can be done from Canada or France using the following streaming options:
Canada: RDS (subscription required)
France: TF1 (free)
France: beIN Sports (subscription required)

There are plenty of good options to choose from if you decide to watch the 2018 World Cup in China using the Russian language. These include:

In the Portuguese language, it is possible to stream the World Cup in China using the following links:
---
Tips for Using a VPN to Watch the World Cup in China
Hopefully the list above has given you plenty of options to choose from to stream the 2018 World Cup while in China. As you learn to use a VPN to access geo-restricted content like this (it's the same way that you can watch Netflix in China), here are a few tips to keep in mind:
Internet Speed is Important: In order to get the cleanest stream of the games, obviously the first thing you'll want is a fast internet connection. However, since you'll be routing your internet connection through a VPN server in another country, which will naturally slow things down, you'll want to choose a country that is physically close to you. For example, if you're watching the World Cup in China through a US server and you're experiencing a lot of buffering, try switching to an Australian server, which is physically closer, to see if the speed is better.
Different Broadcasts, Different Games: No single broadcaster can stream all the games, so if you're looking for a specific game that isn't shown on your player, check the different countries to see if another streaming service is broadcasting it.
Stay Connected, Stay Secure: While you'll need to stay connected to the VPN server the entire time that you watch the World Cup, it's recommended that you stay connected. Not only does a VPN allow you to access blocked content like Instagram in China, it also secures your connection so it's much harder for the government to snoop or a hacker to invade your connection.
Because a VPN can be so important in China, I've been able to negotiate a deal for Travel China Cheaper wherein anybody who uses this link for ExpressVPN to purchase an annual subscription will get 3 additional months absolutely free!
Conclusion | Streaming 2018 World Cup from China
As you can see, it's entirely possible to enjoy the World Cup from China as if you were back in your own home. With a bit of VPN magic and a little experimentation with different streaming sites, you'll be able to sit back and enjoy the games with your friends and family.
Now you'll have a chance to root for (or against, if that's your thing) a team or player without having to listen to the awful Chinese commentary. You can thank me later 😉
Enjoy the games and leave a comment if you have any questions!