Welcome to the 2018 China Public Holiday calendar. This is last year's dates, so if you're looking for this year, check out my 2019 China public holiday calendar here. Both of these calendars show each of the Chinese national holidays as well as the make-up days for each festival.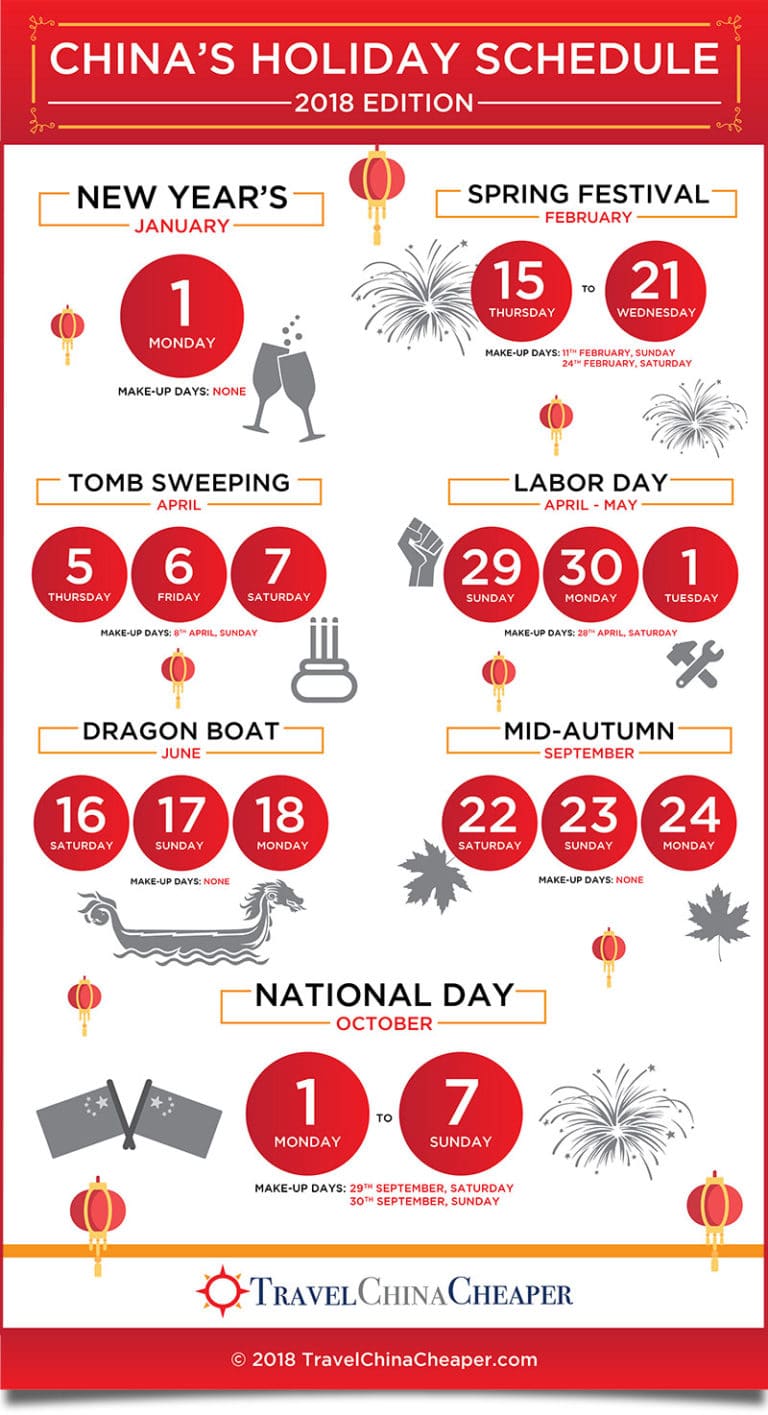 2018 China Public Holiday List
The Chinese government has released the 2018 calendar and below is a quick list of every 2018 China public holiday and their dates:
New Year's Day 2018 | Dec 30, 2017 – Jan 1, 2018: New Year's starts a bit early in China this year, with the 3-day holiday starting on December 30th and ending on January 1, 2018. Thankfully, there are no make-up days for this New Year's holiday.
Spring Festival (i.e. Chinese New Year) | Feb 15-21: This is the time when travel is a nightmare in China and ticket prices are through the roof. The 7-day holiday is bookended by a Sunday (Feb 11) and a Saturday (Feb 24) workday.
Qing Ming Festival (i.e. Tomb Sweeping Day) | Apr 5-7: The three-day Tomb Sweeping Festival begins on a Thursday and ends on a Saturday, but unfortunately there's a work make-up day the following Sunday.
May Labor Day | Apr 29 – May 1: The May holiday is preceded by a 6-day work week (Saturday makeup day) but then continues that Sunday through Tuesday.
Dragon Boat Festival | Jun 16-18: Dragon Boast Festival is a bit of a disappointment this year as it lands on a weekend, which means that while it is billed as a 3-day holiday, the reality is that you're just getting Monday off.
Mid-Autumn Festival | Sept 22-24: Again, this is yet another holiday that is billed as a 3-day vacation but in reality is only a weekend and a Monday off. The next week is National Day, though, so it's really not that bad.
Chinese National Day | Oct 1-7: The second most-busy holiday on the Chinese 2018 calendar is National Day. Make up days are the Saturday and Sunday prior (Sep 29-30) and the holiday then runs for the entire first seven days of the month.
That's it! Now you can hopefully better plan for your time in China knowing what days are holidays, which days are makeup days and which days are just regular work days.
---
---